Description
Widmer T-3 / T-LED-3 Replacement Ribbon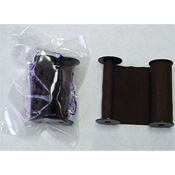 Replacement RIBBON CARTRIDGE for Widmer T3 and T-LED-3 Electronic Time Stamp machines.
Available in Purple (standard), Blue, Red and Black. (Let us know in NOTES – Ordering Page).
$10.00 each – Minimum Order (5) = $50.00
Note – there is a minimum order of 5 replacement ribbons unless being ordered with a new T3 / T-LED-3.