Description

Widmer P420V-SP Perforator
Widmer Perforator "VOID" for Drivers License Cancellation
DOT / FMCSA LEGISLATION 384.211 SURRENDER PROCEDURE: Procedure LINK
Widmer P420V-SP Perforator
Features:
The Widmer P420V-SP Perforator is a cost-effective
It is a  reliable easy-to-use method of conforming to regulations (Motor Vehicle Department) regarding the "VOID" perforation of individual driver licenses that are subject to surrender under Legislation #384.211.
The P420V-SP Perforator can also be loaded with any STATE NAME, etc plus the VOID perforating stamp.
Overview:
Widmer Time Recorder makes it a point to build machines with the utmost quality and to serve customers with the highest level of professionalism.
One of the many aspects they pride ourselves on is their ability to customize products to customers needs.
Widmer machines are proudly made and assembled in the United States of America.
All machines come with a one year warranty.
Their manufacturing team manually tests and thoroughly inspects each machine before we ship them out to customers.
Widmer makes sure all of our machines and products perform at the highest quality for our customers' ultimate satisfaction.
The Perforators below are cost-effective, reliable and easy-to-use.
These machines will successfully and permanently perforate your documents, providing that extra degree of protection you need.
This unit is capable of perforating the word "VOID" in the surrender documents that are U.S. style, plastic coated ID's and drivers licenses.
DOT / FMCSA LEGISLATION 384.211 SURRENDER PROCEDURE
Widmer P420V-SP Perforator
Overview of What It Does: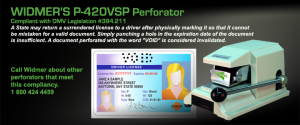 A U.S. State may return a surrendered license to a driver after physically marking it, so that it cannot be mistaken for a valid document.
Simply punching a hole in the expiration date of the document is insufficient.
A document perforated with the word ''VOID'' is considered invalidated.
Widmer P420V-SP Perforator
Specifications:
Shipping weight: 15 lbs.
Dimensions:  6″ (Height)  X  6.5″ (Width) X 10.75″ (Depth)
Operation:  Manual Perforator – "VOID"
DOT / FMCSA LEGISLATION 384.211 SURRENDER PROCEDURE