Description
Widmer Model P-400 Manual Perforator
Widmer Model P-400 Manual Perforator
DOT FMCSA Legislation 384.211 Surrender Procedure – DMV Perforator
Overview:
The Widmer Model P-400 Perforator is a steadfast and sturdy tabletop perforator that is both compact and portable.
Now includes a recent update design – a backstop which will insure the proper placement of the "VOID" perforation on surrender Driver's Licenses and I.D. Cards.
This machine is safe and easy to operate.
The extra long lever provides a smooth, single cutting action.
This secure method of punching holes in documents permanently cancels or validates up to 8 documents simultaneously.
Widmer Model P-400 Manual Perforator
Features & Applications:
Securities Invoices Forms Laminated Cards
Payments Passports Deposits
Bills Certificates Checks
Claims Vouchers Gift cards
Perforates up 8-10 pages of 20lb paper at a time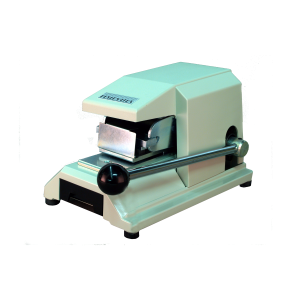 Widmer Model P-400 Manual Perforator
List of Perforation selections:
PAID (P400-P)
VOID (P400-V)
RETIRED (P400-R)
CNCLD (P400-C)
CANCEL (P400-CA)
CANCELLED (P400-CAN)
Custom (P400-U) – Some common perforations: COD, BILLED, COD BILLED PROOF, REC'D, LAB, CLAIM, FILED, SECRET, FAXED, EXPIRED
Widmer Model P-400 Manual Perforator
Specifications:
Dimensions: 10 3/4″ (H) x 6 1/2″ (W) x 6″ (D)
Weight: 13 Lbs.
Shipping Weight: 14 Lbs.
Type: Manual Operation