Description
Widmer Model 10-905 Perforator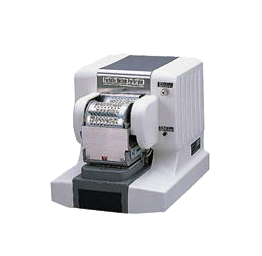 Widmer Model 10-905 Perforator
Overview:
Precision, Security & Reliability
Heavy-Duty, Table Top Perforator
Protecting Important Documents from forgeries and alterations.
This is a Secure method of punching holes in documents
Perfect Document Control for Invoices, Checks, Bills, Stock Securities, Certificates, Passports, etc.
Perforating Machines provide that extra degree of document protection needed in today's world.
A full range of characters, dates, numbers, cancellations, logos & symbols are available for permanently marking documents and for numbering, authentication or security purposes.
Features:
Your best protection for permanent and unalterable marking of documents – perforated holes can't be erased.
Applications include: Dating, Numbering, Cancelling, Receipting, Coding and Validating for Invoices, Documents, Claims, Check, X-Rays, Credit Cards, Badges, Passports, etc.
Fast, convenient & easy to operate. Automatically perforates up to 20 pages per insertion.
Attractively priced; costs less than other comparable electric perforators.
Rugged Construction: made of heavy-duty aluminum alloy die casting.
Completely enclosed gears and motor bearings are lubricated for life.
All steel punches and die plate.
Encased in a plastic case for economical pricing and shipping.
Various styles and options available.
Operations:
Just Insert Document or Up to 20 sheets of paper
Operation is Fast, Easy and Safe
Desktop Size – The model 0-905 takes no more space than an average office machine.
Rugged Construction
1 Year Limited Warranty
Heavy-Duty Aluminum Alloy Die Cast Casing
Precision made Metal Punches, ensures lasting performance
Options:
Date Perforator: model 10-905
Paid & Date Perforator: model 10-905 – Item 31
Upper Text Line & Date Perforator: model 10-905 – Item 32
Upper Text Line & Date & Bottom Text Line Perforator: model 10-905 – Item 33
Numbering Perforator: model 10-905 – Item 29
Specifications:
Model 10-905 Perforator
Type: Electric Operation
Outer Dimensions: 9.5 x 13.4 x 10.4 inches / 240×340×265 mm
Weight: 56 lbs. / 24 kgs.
Perforating Ability: Perforating ability: up to 20 sheets of 64 gs/m2 paper when 7-digits are perforated
Power Requirements: 100V, 110V, 120V, 220V, 230V, 240V 50/60Hz (Other voltages available on request)
Using mode: "SINGLE USE" mode only rating within 30 min.
Die-block: 911-10N