Description
Widmer 776TV Ink Seal Embosser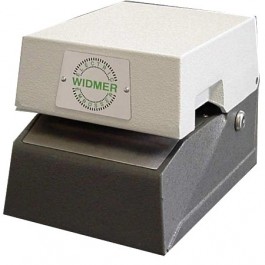 Widmer 776TV Ink Seal Embosser
Quick Points:
NOTE: The Model 776TV prints a seal, date, signature and title.
The Widmer Model 776TV Ink Seal creates a printed seal into a document and prints a combination of signature, title, date and additional text—all in one easy step! Signature and text may be printed in single or tri-colored ink.
The print/emboss trigger is paper activated—no buttons to push or levers to pull.
Iron cast upper and lower casing insures stability and long life.

Widmer 776TV Ink Seal Embosser
Specifications:
Dimensions: Height: 7 in. (18 cm) x Width: 7 1/4 in. (18.4 cm) x Depth: 10 in. (25 cm)
Weight 31 lbs. (14.1 kg)
Shipping Weight: 34 lbs. (15.42 kg)
Two-tone light and dark gray finish.
115 Volt 60Hz (Optional 220 Volt 50Hz).
Inscriptions may be above, or below the time, date and number line.
Widmer 776TV Ink Seal Embosser
Sample Ink Seal Impressions:
NOTE: In the event of an order cancellation or refund, the unit is subject to a 15% restocking fee, due to the customized features included with this unit. Please allow 2-4 weeks for delivery.