Description
Standard Register TE-1914 Exception Item MICR Encoder
Overview:
Introducing the Standard Register TE1914 Exception Item MICR Encoder which is precise, Productive Point-of-Entry Check Encoders on the Market, without Exception.

With the TE1914, your tellers and support personnel can encode missing account numbers on internal documents in seconds, faster and easier than any competitive model. 
And they can do it virtually error-free because of the TE1914 encoder's refined user-friendly design, high quality ribbons and patented printing technology.
Pricing does not include TE-1914 Encoder Machine – EPROM
Check BOX below for EPROM Programming
Save Space and Labor in the Process.
The compact footprint of the TE1914 check encoder frees up room for other functions, improving customer service.
Because ribbons can be stored and changed by your operators on-site, downtime is limited.
By encoding at the teller station, you save time and money up-front, before items with missing or inaccurate account information reach your proof department.
And you don't pay for excess or redundant features of large-scale, back room check encoders.
Standard Register TE-1914 Exception Item MICR Encoder
Features:
Large slope of drop station decreases misfeeds and enhances productivity
High yield MICR ribbons reduce "cost of use" by minimizing changes
Combination of ribbon quality and patented print hammer lowers reject rate to well less than half of one percent
Improved, angled, backlit display is easier to read by both standing and sitting tellers
Deep document holding area improves operator efficiency
Versatile keyboard with clearly labeled keys reduces entry errors
Easily reprogrammable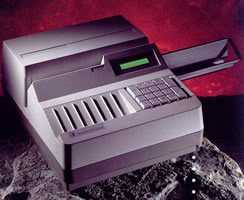 Standard Register TE-1914 Exception Item MICR Encoder
Specifications:
| | |
| --- | --- |
| Color | Gray |
| Weight | 16 lbs. (7.25 kgs) |
| Height | 7″ (177.8 mm) |
| Width | 12″ (304.8 mm) |
| Depth | 15″ (381 mm) |
| Power | 120V, 1 Amp. U.S. Application; 220V, 1 Amp International Application |
| Ribbon | Cartridge capacity Up to 85,000 MICR character yield 250,000 lister character yield |
| Font | E13B MICR or CMC-7 MICR |
| Print Speed | 20 characters per seco |