Description
Kobra 300.1 C4 Auto Oiler Cross Cut Shredder
General Office Cross-Cut Shredder

Multipurpose Professional Shredder – Medium size Offices – Cross cut

Quick Points:
Carbon hardened cutting knives, unaffected by staples and metal clips.
High precision design of cutting knives allows high shred loads with low power consumption.
Motor thermal protection.
Complete with Auto Oiler
24 hour continuous duty motor: no duty cycle or timed cool down period.
KOBRA 300.1 detects the door opening and automatically stops the cutting knives.
Features:
SUPER POTENTIAL POWER UNIT: heavy duty chain drive with steel gears
CONTINUOUS DUTY SHREDDING: 24 hour continuous duty motor. No duty cycle or timed cool down periods
ENERGY SMART®: power saving system, the machine goes into power saving stand-by mode after just 8 seconds
START & STOP: automatic start and stop through electronic eyes
SAFETY STOP: automatic stop with light signal for open door and/or bag full
AUTOMATIC REVERSE: automatic reverse in case of jamming
CABINET: attractive 110 litre cabinet mounted on casters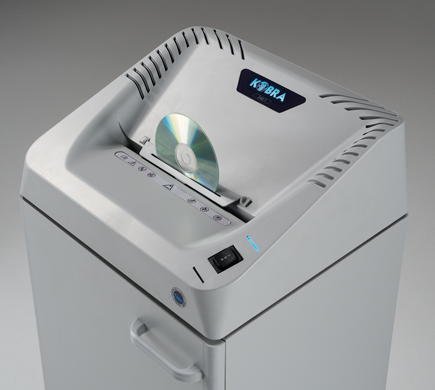 Specifications:
Throat width: 310 mm
Shred size: cross cut 3,9×40 mm
Paper Capacity: 20-22 A4 / 70 gr; 18-20 A4/80 gr
Security Level DIN 66399: P-4 O-3 T-4 E-3 F-1
Security Level DIN 32757: 3
Shreddable material: Paper, Credit Cards and Credit Cards with Chip, CDs/DVDs, Films
Speed: 0,07 m/sec
Noise Level: 55 dba
Bin Capacity: 110 litre
Voltage: 230 Volt
Power: 600 Watt
Dimensions (WxDxH): 53 x43 x 92 cm
Net Weight: 38 kg
Certification marks: CB CE CSA
Consumable Materials:
box of 50 waste bags – (SB-30)
KOBRA oil to lubricate cross cut knives.  Box of 24 bottles of 125 cc. each
KOBRA oil to lubricate cross cut knives.  Box of 24 bottles of 1 litre each