Description
Ingenico Merchant Cleaning Kit KWING-KMC1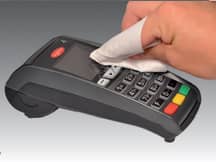 Description:
This Ingenico Merchant Cleaning Kit contains six (6) cleaning cards and twelve (12) dual wipes,
Both approved to help maintain Ingenico Card Readers.
The Ingenico Cleaning Card is for use on both the smart card and magnetic stripe readers
To remove foreign contaminants that may inhibit the card reader's contact with the credit card.
This simple to use product can quickly remove these contaminants in seconds.
The Ingenico Dual Wipes were designed to safely clean the chassis and screen on the Ingenico card reader
As well as any monitor, plasma screen, laptop, PDA, etc.
It has one wet wipe for cleaning and a dry wipe to remove any remaining moisture and residue.
Ingenico Merchant Cleaning Kit KWING-KMC1
Product Specifications:
Kit includes: six (6) cleaning cards and twelve (12) Ingenico Dual Wipes
Card Size: 3.345" x 2.10"
For use on both smart card and magnetic stripe readers
Presaturated and individually sealed
Reduces build-up without dismantling equipment
Quick, easy, inexpensive preventative maintenance
Item # KWING-KMC1
Weight:  .35 lb