Description
Ingenico Maintenance Cleaning Kit KWING KMT1
Ingenico Maintenance Cleaning Kit – contains forty (40 ) cleaning cards and forty (40 ) dual wipes
Sold in options of 1 – 3 – 6 – 12 – 24 kits 
Ingenico Maintenance Cleaning Kit KWING-KMT1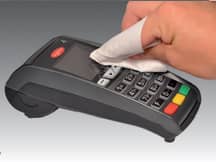 Use this product to clean Ingenico card reader terminals of all makes and models.
This Ingenico Maintenance Cleaning Kit contains forty (40) cleaning cards and forty (40) dual wipes, both approved to help maintain Ingenico terminals.
This kit was fashioned for businesses that have multiple Ingenico POS terminals.
The Ingenico Cleaning Card is versatile and can be used to clean both the smart card and magnetic stripe readers.
This quick and simple to use product was designed to remove foreign contaminants that can inhibit the equipment's contact with the credit card.
The Ingenico Dual Wipes were designed to safely clean the chassis and screen on the Ingenico terminal, as well as any monitor, plasma screen, laptop, PDA, etc.
It has one wet wipe for cleaning and a dry wipe to remove any remaining moisture and residue.