Description
Ingenico Dual Wipe Kit KWING-WDB16
Ingenico Dual Wipe Kit – Dual Wet/Dry Solution Wipes – contains sixteen (16 ) Dual Wipes 
 Item #  KWING-WDB16
Ingenico Dual Wipe Kit KWING-WDB16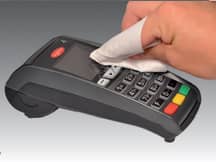 Description:
Use this product to clean Ingenico chassis and screens of all types.
This Ingenico Dual Wipe Kit was designed to safely clean the chassis and screen on Ingenico card readers.
The unique solution is also safe to use on any monitor, plasma screen, laptop, iPhone, iPod, PDA, etc.
To remove fingerprints and other smudges from your screen.
An extremely universal product that will not scratch or leave residue and has an anti-static property added.
Included in the package is one wet wipe for cleaning and one dry wipe to remove any remaining moisture and residue.
Click for Brochure:
http://www.cleaningcard.com/ingenico_pdfs/Ingenico_Dual_Wipes_Data_Sheet.pdf