Description
Epson TM-L500A Boarding Pass Cleaning Cards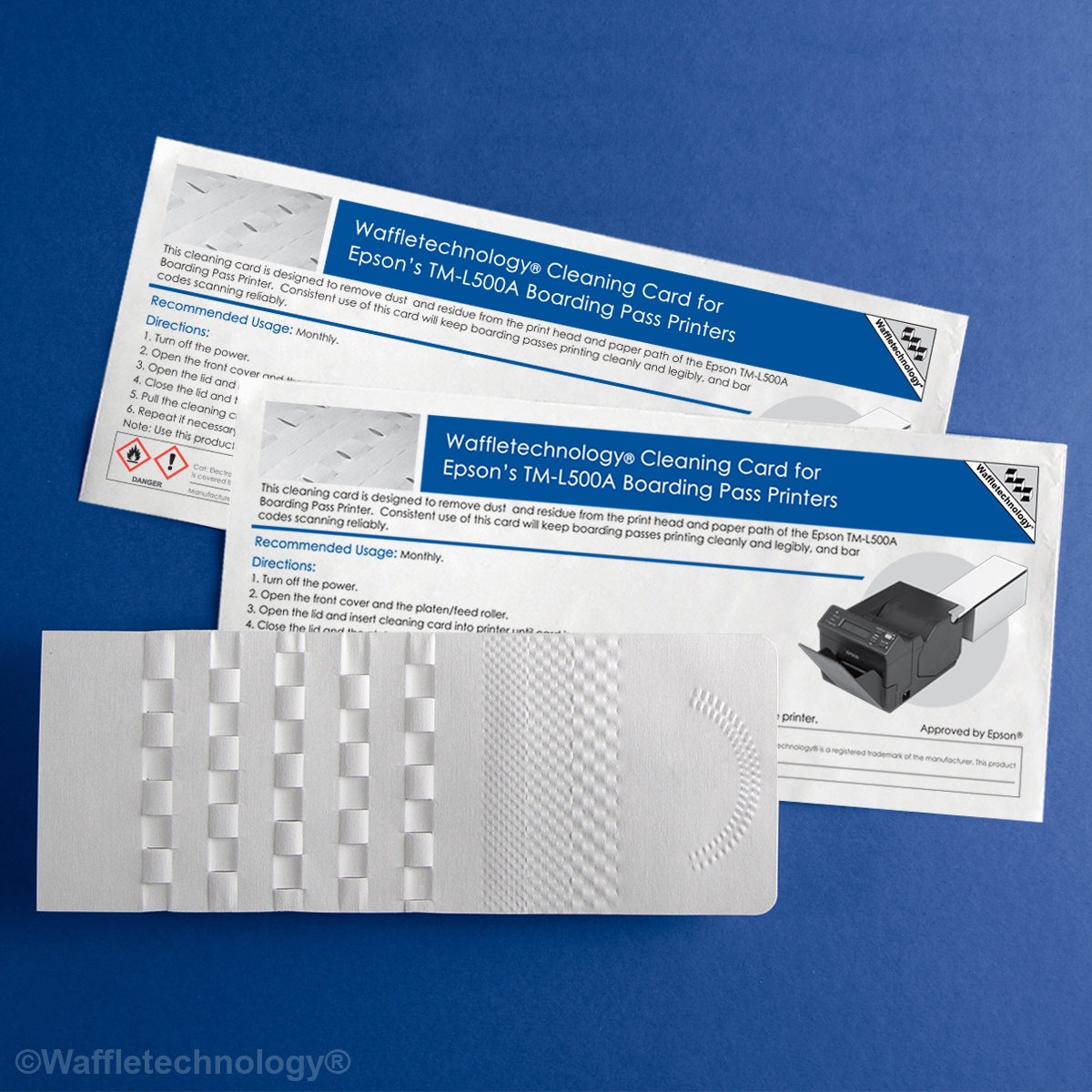 Epson TM-L500A Boarding Pass Cleaning Cards featuring Waffletechnology®
Product Description
This cleaning card is designed to remove dust and residue from the printhead and paper path of the Epson TM-L500A Boarding Pass Printer. The patented design of raised and spring-loaded platforms is used to clean the printhead is ways that a flat card cannot. Consistent use of this cleaning card will keep boarding passes printing cleanly and legibly, and bar codes scanning reliably. Approved by Epson®
KICTeam PN: KWEPS-BP1B15
Quantity: 15 per Box
MSRP (USD): $37.23
OUR PRICE: $31.49
Use On
Epson TM-L500A Boarding Pass printers
Industries Used In
Cleaning for the Transportation Industry
Whether you or your package is going by plane, bus, ship, truck or mass transit, the Transportation and Logistics Industries use a wide array of devices to maintain speed and efficiency. Our Transportation Industry collection gives you the technical cleaning products designed for Thermal Printers (bag tag, boarding pass, shipping label or barcode printers), barcode readers, ticket kiosks, card readers, sensitive screens, and other devices to maintain operational effectiveness and reduce maintenance costs. Cleaning keeps things moving.
Best Practices
A regular cleaning routine is the best way to increase both operational efficiency and the longevity of the equipment while reducing service calls. Based on the manufacturers' recommendations and customer feedback, we encourage the following best practices for optimal results:
Thermal Printers
Clean with every media roll change or at least twice per month.
Clean more frequently after periods of high use.
Printers become dirty from "paper dust" and adhesives as well as environmental contaminants. Cards clean the printhead and any build-up on the printer's rollers.
Dirty Device Symptoms:
Poor print and image quality
Paper Jams
Barcode misprints or voids