Description
Bixolon SRP-275 Dot Matrix Receipt Printer
It's a Samsung Bixolon SPR-275 Series
It's a Dot Matrix POS Printer
New standard for Impact Receipt Printer
Features:
The Bixolon SRP-275 receipt printer is an enhanced, more powerful successor to Bixolon's best-selling SRP-270 Series of receipt.
The Bixolon SRP-275 receipt printer offers reliable, fast and enhanced easy-to-use features important to restaurant, hospitality and retail environments.
The SRP-275 is optimized for high speed customer receipts
Allowing kitchen orders to print faster than ever with two-color, black and red printing to highlight special offers and print logos.
Bi-directional print technology allows higher printing speed and quiet printing for a peaceful atmosphere.
Other Value-Added Features:
Two-Color Printing
27 code pages included in the standard firmware (No update necessary, to be set by VMSM)
8 KB data buffer
Drivers for Windows 95, OPOS (UPOS Version 1.9) and Linux Cups
Accessories such as splash proof cover; and internal (Standard)/external buzzer are available
Compact design and size facilitating the installation in all areas (Wall mount bracket option)
Easy to install ribbon cartridge (Black / Black & Red)
Highlights:
Fast printing speed of up to 5.1 lines per second (11% faster than the SRP-270)
Optimized mechanical components and software  to enable fast and stable printin
 Logic seeking, bi-directional print technology allows higher speed than previous models with much less noise
Drop in and print paper loading
Lift the lid, drop in the roll, and close the lid and print. 
Nothing could be easier:
Built-in power supply
Long lasting Auto-cutter up to 1.5 million cuts  with easy paper-jam removal
Trustworthy reliability (18 million lines MCBF)
User-friendly software tools provided
Logo/ Firmware download
Virtual Memory Switch Manager (VMSM)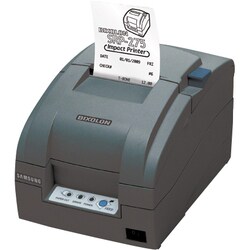 2 Different Models to choose from:
SRP-275C (with auto-cutter)
SRP-275A (without auto-cutter)
Specifications:
PRINT
• PRINTING METHOD : 9 Pin Serial Dot Matrix
• PRINTING SPEED : 5.1 lines per second
• RESOLUTION : Horizontal Resolution : 80 dpi
Vertical Resolution : 144 dpi
• CHARACTER SIZE (W X H dots) : Font A : 9 X 9 / Font B : 7 X 9
Korean: 17 X 9 / Chinese : 16 X 16
• CHARACTERS PER LINE :
FontA : 35 (3half dot : 33), Font B : 40
Korean : 20, Chinese : 22 (3half dot : 21)
• CHARACTER SET : Alphanumeric Character : 95
ExtendedCharacter : 128 x 27 pages
International Character : 48
PAPER
• WIDTH : 76 ± 0.5mm
• PAPER ROLL DIAMETER : Max Ø 83.0mm
• PAPER LOADING : Easy Paper Loading
RELIABILITY
• PRINTER UNIT : 18 million lines
• HEAD : 300 million dots / wire
• AUTO CUTTER : 1.5 million cuts
INTERFACE: Serial(RS-232C), Parallel (IEEE1284), USB, Ethernet
RECEIVE BUFFER: 8 Kbytes
NV IMAGE MEMORY: 256 Kbytes (Mono / Color)
EMULATION: ESC/POS TM
DRIVER: Windows, OPOS, Linux Cups (Linux kernel 2.4.18
and later)
SENSOR: Paper Near End Sensor, Paper End Sensor,
Wall Mounting Paper Near End Sensor,
Rear Cover Open Sensor
DRAWER PORT: 2 ports
POWER SUPPLY (SMPS): AC 100~240V / DC 24V, 1.5A
DIMENSIONS: 160 X 239 X 157 (W X L X H mm)
OPERATING TEMPERATURE: 0 ~ 45˚C / 32 ~ 113 ˚F
Dot Matrix POS Printer
Normal Roll Paper
Speed: 5.1 LPS
3 inch Roll
Interface: USB
Made in Korea
Warranty: 1 year
Model:  SRP-275A  (Manual Cutter)
Model:  SRP-275C  (Auto Cutter)