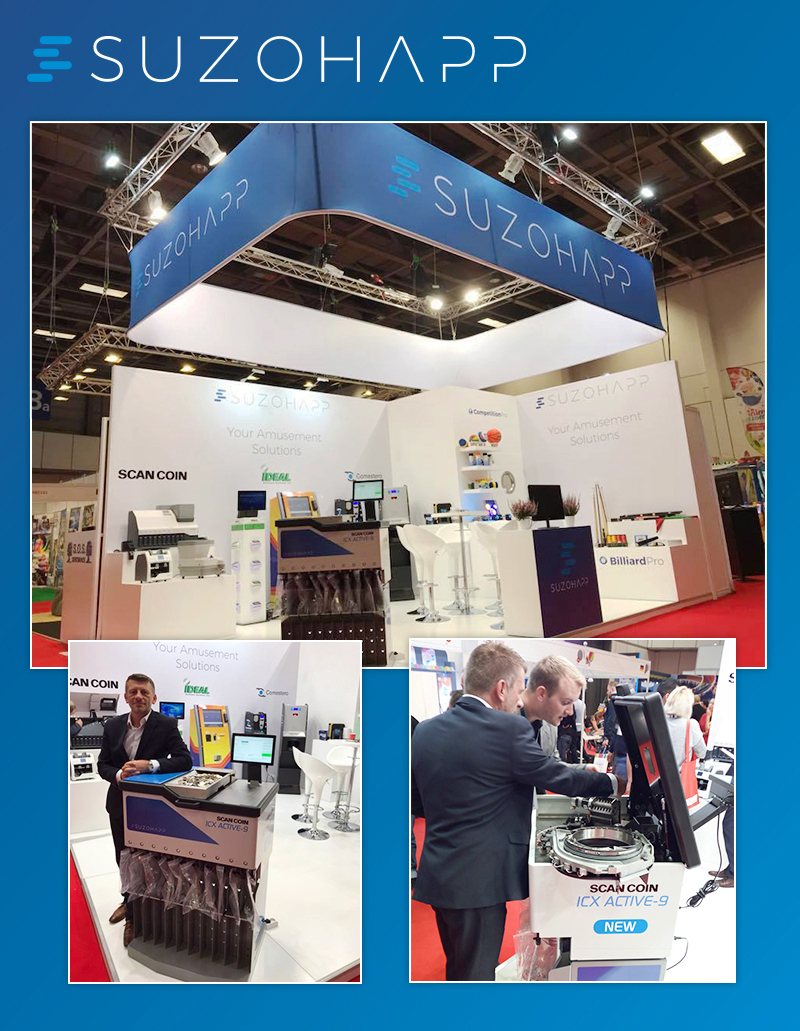 09-10-17
Great success at EAS for new ICX Active-9
SUZOHAPP looks back at a very busy Euro Attractions Show (EAS) that took place between the 26th and 28th of September in Berlin. There was a great turnout of Amusement professionals who were interested in the vast offering on display at the SUZOHAPP booth.
The German show was the ideal opportunity for SUZOHAPP to launch the new ICX Active-9, the innovative SCAN COIN mid-range compact coin sorter. John Vallis, Sales Director for SUZOHAPP in the UK and Vice President of Amusement Sales EMEA, commented, "We were very pleased with the great feedback we received from the visitors to our stand. We have introduced a high-volume coin sorter that is exactly what the market has been looking for. Through years of research, development, testing and industry trials, the ICX Active-9 is engineered to be the best at delivering what any coin sorter should – accuracy and consistency."
For operators of amusement parks, SUZOHAPP displayed the IDEAL solution. The IDEAL Cashless System can transform the amusement facility into a fully integrated operation with greater profitability and an enhanced guest experience that will keep customers coming back for more. IDEAL enables a common cashless payment system for customers at locations offering a multitude of attractions, as well as amusement machines, bowling alleys, food and beverage, just to name a few. IDEAL is card-based with various card reading possibilities, making the solution very user-friendly. Customers can pay using the IDEAL cards anywhere in the location. The card can be dispensed and/or recharged at the self-serve kiosk or from a POS terminal.
It is all about providing the right solution for the right application,? added Luca Rossato, Sales Manager. ?We always advise our customers how to make the best use of our products, while also providing technical training and maintenance / service. We are committed to supporting the vending industry and helping operators in their day-to-day business/"